Here and Now Arena Tour - New dates added
WEMBLEY Arena - Saturday 4th (on sale from 26th March) & Sunday 5th November - now on sale.
BIRMINGHAM NIA - Tuesday 14th November - now on sale.
NOTTINGHAM Arena - Monday 20th November - now on sale.
DUBLIN The Point - Tuesday 5th December - now on sale.
The Central Box Office Number, on which all UK mainland dates can be booked, is 08700 11 13 12.
For Belfast and Dublin the booking numbers are 028 9073 9074 and 003 53 1 4 569 569 respectively.
If you would like to book online please click here.
EXCLUSIVE Email Offer
We are considering offering a personalised email service to all Cliff's loyal fans which will allow you and your friends to have your own unique mailbox at MyCliff.Com or Move-It.bz, i.e. yourname@MyCliff.Com or yourname@Move-It.bz
Details and cost of the service are yet to be finalised, but in the meantime if you would like to pre-register your interest without obligation, please click here.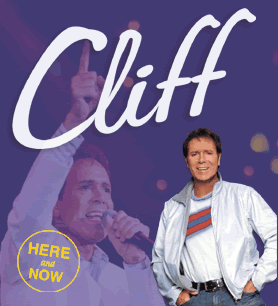 HERE AND NOW ARENA TOUR 2006

WEMBLEY Arena - 4,5,7,8 & 9 November
CARDIFF International Arena - 11 November
BIRMINGHAM NIA - 14,16 & 17 November
NOTTINGHAM Arena - 19,20 November
SHEFFIELD Hallam FM Arena - 22 & 23 November
MANCHESTER Evening News Arena - 25 November
NEWCASTLE Metro Radio Arena - 28&29 November
GLASGOW SECC - 1 December
BELFAST The Odyssey Arena - 3 December
DUBLIN The Point - 5,6 December