L'Echo Arena de Liverpool, ville des Beatles, était bondée ce mercredi pour saluer Cliff Richard et les Shadows (11.000 places assises). Tim Banfield, général manager de l'Echo s'est dit ravi d'accueillir le MILLIONNIEME visiteur de sa salle le jour où l'on présente le spectacle d'une LEGENDE de la musique (Cliff Richard).
Sir Cliff Richard welcomes the ECHO arena's millionth visitor in Liverpool
Oct 8 2009 by Tina Miles, Liverpool Echo
Sir Cliff Richard welcomes the ECHO arena's millionth visitor in Liverpool
SIR CLIFF RICHARD presented a lucky fan with a prize for being the millionth visitor at Liverpool's ECHO Arena.
Dorothy Krelle and her friend Ann Ranson were selected from the audience at the Cliff Richard and The Shadows show last night, which was part of a large tour to celebrate the 1960s rockers' 50th anniversary.
They were given a golden ticket which could be redeemed for free passes for 10 shows of their choice before the end of next year.
Tim Banfield, general manager at the ECHO arena, said: "Welcoming our millionth visitor was a proud moment for the team.
"It was even more of a special occasion to tie in the milestone with the visit of a musical legend.
"There are lots more stars to perform here in the future and we're looking forward to welcoming our next million visitors."
The arena opened last year.
La veille, à Cardiff, ils étaient 5.500 (sold-out aussi et une 2è séance le 20 octobre). Le "South Wales Echo" a publié un super article sur le concert rappelant notamment que Cliff était le SEUL chanteur britannique numéro 1 dans les charts durant 5 décennies. Voici deux témoignages Gallois.
linshaw1

| | |
| --- | --- |
| 07-10-2009 @ 3:52 PM | |




Went to my first concert EVER. What a brilliant night. Don't think anything could ever top it except another Cliff and the Shadows concert. Weren't they all amazing? Awesome!!!

Je suis allé à mon premier concert...seul un autre de Cliff and The Shadows pourrait être aussi excellent....



AnnieBurnell

| | |
| --- | --- |
| 07-10-2009 @ 3:31 PM | |




WOW!!!!!!! Cardiff C.I.A. concert last night was absolutely FANTASTIC. How does our man Cliff do it ? He's so fit, his voice is still as good as ever, and it was great to see him and the shadows reunited.
So glad I was there - a wonderful night.

...Mais comment fait notre homme Cliff? Il est si en forme, sa voix toujours aussi belle...Une soirée merveilleuse.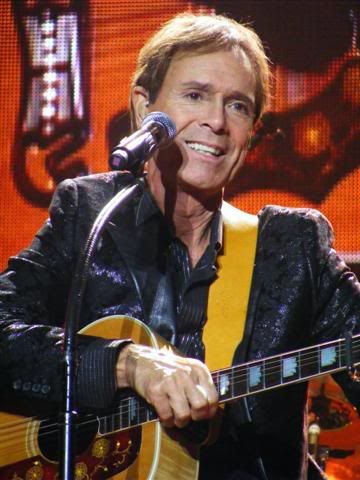 (photo du concert Ria Simonis).
Demain photos surprises en exclusivité.