TOP OF THE POP EXCLUSIF COCOHEINEN
26/12/2014
Entouré des miens durant ce réveillon de NOEL bien réussi, J'ai demandé à Laure qui dégustait son gâteau d'annif de prendre cette photo "Unique" et " Exclusive"...TOP OF THE POP 1979 BBC4 avec WDTA en NUMBER ONE...
Category :
Musique (CLIFF Richard)
|
Write a comment
|
Print
Comments
cliffette, le 28-12-2014 à 01:31:33 :
Après mes 3/4 d'heure de détente !
Hier soir après mes réceptions et avant de continuer aujourd'hui je me suis accordée une pause en regardant le DVD " Cliff in Berlin" de 1971 : un vrai régal, je vous recommande ce DVD !


Photo Hanne Sørensen.
Bon dimanche à tous, je retourne à mes fourneaux !

Carmen de Ghoy, le 27-12-2014 à 14:09:09 :
Cliff sur BBC4
bonjour à tous
j'ai regardé aussi mais après l'avoir enregistré car bien sûr j'ai réussi à me tromper dans les heures anglaises Heureusement qu'il le repassait Merci de tout cœur d'avoir joué les Pères Noël, Coco, cela m'a fait énormément plaisir
C'était quand même une Sacré Soirée comme dirait l' autre
Bon week-end sous la neige
serge.g , le 27-12-2014 à 08:44:24 :
bonjour
Merci Jean Pierre de ton geste d'amitié. Ai été voir ma boite aux lettres aujourd'hui (avec du retard) Suis sincèrement touché bon dimanche
serge.g , le 27-12-2014 à 05:17:08 :
bonjour
Super aujourd'hui 10 cm se neige nous pouvons re fêter Noel dans de bonnes conditions bonne journée
cliffette, le 27-12-2014 à 01:04:37 :
Je ne vois pas la photo !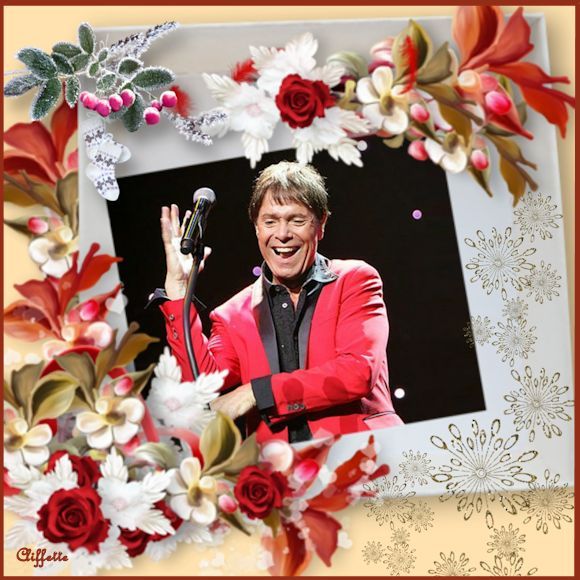 Photo de la page Facebook officielle de Cliff.
Bonne journée à tous.