UN CLIFF RICHARD CHAMPAGNE
10/6/2014
La presse irlandaise ne tarit pas d'éloges à la suite du concert que CLIFF a donné hier soir à CORK où la salle affichait sold-out.

Extraits...Voix intacte, attitude et vêtement sexy, toujours en mouvements...Peine à croire qu'il a 73 ans...CR comme le bon vin s'améliore avec le temps mais, pour lui, on peut parler de CHAMPAGNE....

Cote globale 4/5

Irish Examiner review of Cliff in Cork:

Review: Pop: Cliff Richard
Marquee, Cork

Organisers of the Live at the Marquee festival got the cliffhanger start they were looking for last night as Summer Holiday arrived with a bang — or rather the man who made the song famous did.

The third biggest selling singles artist in UK history, Cliff Richard took to the stage of a sold-out Marquee for the first concert in a packed six-week programme.

Like old wine, Richard may not be brought out that often, but he's well preserved and delivers a champagne performance.


We can be as cynical as we like about the Peter Pan of pop but Cliff was just brilliant — velvet voice, sexy hips, and well able to deliver.

His polished, power-packed show of rock 'n' roll, pop, and ballads had plenty of energy and a snappy backing band. It's hard to believe, given his movement and voice that, at the age of 73, and more than half a century on from his first hit, he is still capable of giving an audience what they want. Opening with 'My Kind Of Life', it was hit after hit after that, with 'Dreaming', 'Livin' Doll', 'Poetry In Motion', 'Sealed With a Kiss', 'The Twelfth of Never', 'Summer Holiday' and 'Congratulations'. But what else you would expect from an artist who has just released his 100th album? Pure entertainment.

Category :
Musique (CLIFF Richard)
|
Write a comment
|
Print
Comments
Cliff1956, le 12-06-2014 à 08:02:57 :
Bonjour
Il est enfin reconnu en tant que vrai professionnel et on ne se moque pas de lui a cause de son âge. Il le mérite amplement. Il donne a ses fans tout ce qu'il peut mais heureusement prends le temps pour lui.
Aujourd'hui est une journée ensoleillée et la nuit a été enfin calme et sans électricité :-)
Bonne journée a tous. Gros bisous.
lilithewitch, le 11-06-2014 à 16:11:30 :
Cliff
Serge, je pense que Keith Hayman, son directeur musical fait un bon travail, Cliff et lui se complètent vraiment en plus les musiciens talentueux complétés par des voix exceptionnels d'accompagnement donnent un groupe uni ou chacun donne le meilleur de soi

serge.g , le 11-06-2014 à 15:09:49 :
bonjour
je pense vraiment que Cliff avec ses nouveaux musiciens n'a jamais était aussi bon! de plus son répertoire était parfait. Vraiment que les jeunes en majorité l'ignore.
cliffette, le 11-06-2014 à 11:38:26 :
Plein succès bien mérité pour Cliff !
Je retiendrai ce titre du journal Evening Echo que j'approuve :

Not bad for 73 Cliff…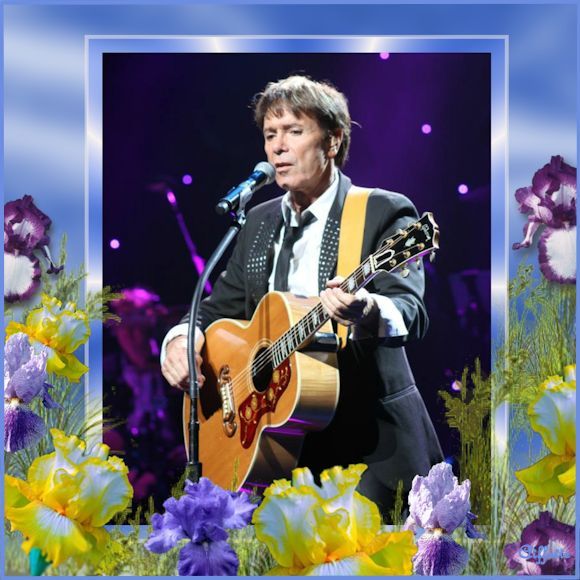 Photo Suzette Stephens.
Bonne journée à tous.
lilithewitch, le 11-06-2014 à 00:33:07 :
dernier concert de la tournée
Quelle formidable tournée... nous savons ce que nous avons vécu, nous lisons de merveilleux critiques dans les médias allemandes, danoises, norvégiennes, néerlandaises, belges, françaises et irlandaises... mais j'aimerais bien connaître son avis. Saviez-vous que Cliff a ouvert le festival 'Live at the Marquee' avec son concert à Cork. Ce festival se déroule depuis 2005 lorsque Cork fut ville européenne de la culture. Après Cliff suivront Dolly Parton, The Coronas, Nathan Carter, Bob Dylan, Tom Jones, Imelda May, Elbow, Robert Plant & the Sensational Space Shifters, Jason Derulo, Biffy Clyro, Bryan Adams, Pixies, The Prodigy, Brian Wilson, Christy Moore, Paolo Nutini, Neil Young & Crazy Horse, Shane Filan, Mario Rosenstock - Gift Grub Live 3, The National, Lana Del Rey!