LE RECIT DE FRANCINE à L'OLYMPIA
4/6/2014
Je garderai un souvenir inoubliable de ce concert à l'Olympia de Paris le 2 juin 2014 !
Après avoir fait des photos devant l'Olympia, nous nous sommes retrouvés avec quelques fans français dans un café à proximité de la salle.
Arrivés dans le Hall, il y avait déjà des fans venus de tous les pays qui, à l'énoncé de mon pseudo "Cliffette de France", me manifestèrent leur joie de me rencontrer.
Une me montra son tatouage et une autre m'entraîna avec elles pour faire une photo souvenir.
J'étais bien placée au 3ème rang sur le côté et j'ai pu faire des photos et des vidéos, pas toujours réussies à cause de mon appareil-photo qui n'est pas aussi perfectionné que celui d'autres fans.
De plus, au début de quelques chansons, les fans étrangères se levaient pour chanter, danser et taper des mains ce qui m'obligera à couper le début de certaines videos. Heureusement qu'en étant grande, je pouvais me lever aussi et continuer à filmer !
Les fans se sont précipitées au bord de la scène bien avant le moment que je croyais connaître mais je les ai suivies et j'ai quand même pu photographier et filmer.
Après le Concert, nous sommes allés à l'entrée des artistes mais Cliff était déjà parti en voiture.
Le lendemain, avant de repartir j'ai passé la matinée avec une de mes amies et un couple de Japonais qui étaient venus exprès de Tokyo pour voir Cliff, des gens charmants qui ne parlaient pas un mot de français mais j'ai réussi à me faire comprendre. Quand mon amie est partie pour aller à Roland Garros, je les ai accompagnés aux Galeries Lafayette puis nous avons mangé ensemble. Il était l'heure pour moi d'aller à la gare et eux sont partis en taxi voir la Tour eiffel.
Comme j'étais partie malade, on ne peut pas dire que Cliff m'a guérie mais je vais pouvoir me reposer maintenant avec plein de souvenirs dans la tête ...
I
will
keep an unforgettable memory of this concert to the Olympia of Paris on June 2nd, 2014!
After having made photos in front of the Olympia we
met
some French fans in a café near the Olympia.
When we
entered
the Hall, there were already fans come from all the countries who
b
y hearing my pseudomym " Cliffette of France ",
were happy
to meet me.
One showed me
her
tattoo and an other one
invited me for
a souvenir photo.
I
sit
in the 3rd row
at
the side and I was able to make photos and videos, not always
successfull
because of my camera which is not also sophisticated as those
of other fans.
Furthermore at the beginning of some songs the foreigners fans got up to sing, dance and clap hands what will oblige me to cut the beginning of some videos. Good thing by being tall, I could get up also and continue to film!
The fans rushed at the edge of the stage before the moment which I believed to know but I followed them and I was able all the same to photograph and to film.
After the Concert, we went to the stage door but Cliff had already left by car.
The next day, before leaving, I spent the morning with one of my friends and a couple of Japanese
ladies
who had come
specially from Tokyo to see Cliff,
lovely
people who did not speak French but
we managed somehow to understand each another
. When my friend left
for
Roland Garros, I went along with tehm to the
Galleries Lafayette where we had a meal
together. It was the hour for me to go to the station and they left by taxi to see the Eiffel Tower.
As I was sick when leaving home, I
cannot say that Cliff
heal
ed me but I'm
able to rest now with a lot of
wonderful
memories in mind
....
Category :
Musique (CLIFF Richard)
|
Write a comment
|
Print
Comments
serge.g , le 05-06-2014 à 16:50:51 :
bonjour
un bon rétablissement à Francine et une pensée pour jean Pierre
cliffette, le 05-06-2014 à 14:04:43 :
Merci.Harry Webb !
Cliff m'a redonné de l'énergie pour venir à bout de mon virus !
, le 05-06-2014 à 11:26:35 :
IRLANDE
JUNE 2014 Thu June 5 BELFAST ODYSSEY THEATRE Sat June 7 DUBLIN BORD GAIS ENERGY THEATRE Mon June 9 CORK LIVE AT THE MARQUEE Booking Information Credit Card Booking Lines:- 0818 719300 (ROI) 0844 277 4455 (N.Ireland) Book on line Ticketmaster Also available from all usual Ticketmaster outlets Belfast Tickets also available from the Odyssey Arena Box Office(028) 9073 9074
Harry Webb !, le 05-06-2014 à 08:44:10 :
Fan en Périgord
Merci Francine pour ce joyeux récit qui m'a fait imaginer l'ambiance enthousiaste de ce fabuleux moment. Je vous souhaite meilleure santé.

cliffette, le 05-06-2014 à 08:04:18 :
Je suis vraiment heureuse d'être allée à Paris !
Aujourd'hui : "Welcome to Odyssey Arena in Belfast !"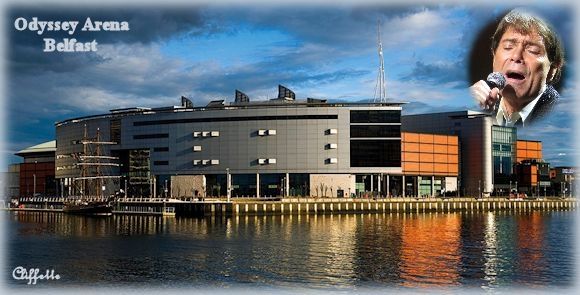 Courage Jean-Pierre, nous pensons bien à toi qui revit en ce moment les tristes évènements de l'an dernier...