Plusieurs news...Demain, lundi, j'aurai 64 balais et hier (samedi), à la suite de mon "come back" au ping, le barman a joué DREAMIN' que mes jeunes équipiers (12-15 et 17 ans) ont découvert! Héhé!

I'm dreamin' dreamin' of me and you
I'm dreamin' dreamin' will see me through
Never letting chances pass me by
I'm gonna dream you right into my life
Je ne rêve pas trop d'elle...mais j'y pense à chaque instant...Mais je saisirai les chances à venir, enfin, j'essayerai!

Sur BBC 2 Radio, ce dimanche, CLIFF répondait aux questions de Johnnie Walker (émission enregistrée)...Les voici en photo.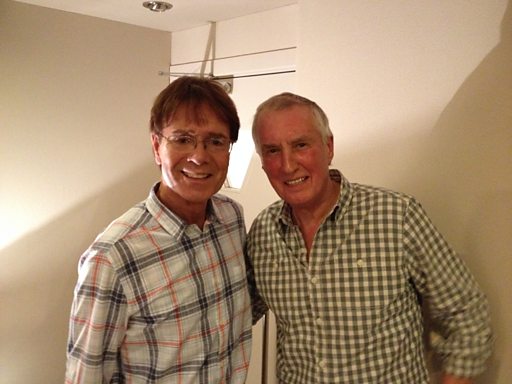 CLIFF remonte partout!
--------------------------

Le succès du DVD et de l'album se poursuit un peu partout...Ainsi, par exemple, en 9è semaine, le concert " STILL REELIN and a ROCKIN" gagne 6 places et remonte à la 14è en AUSTRALIE, il reste 5è en IRLANDE et 9è au DANEMARK où l'album "FABULOUS ROCK..." réintègre le TOP 40 (numéro 38).
N'oublions pas que Cliff a été NUMBER ONE ou TOP 10 dans plusieurs pays...Et cela continue après plus de deux mois!

Et aux UK, le DVD-BLUE RAY gagne à nouveau une place!!! TOP 6!

6
7
9

STILL REELIN' AND A-ROCKIN' - LIVE

CLIFF RICHARD

(UNIVERSAL PICTURES)
CLIFF a enregistré un morceau avec Englebert H. dont l'album (plusieurs duos...avec Elton aussi) sortira en mars prochain.