HAPPY BIRTHDAY CLIFF!
14/10/2013

CLIFF fête aujourd'hui ses 73 ans...Happy Birthday, Sir CLIFF, Bon Annif Monsieur ...RICHARD!
HAPPY BIRTHDAY, BON ANNIF SIR CLIFF!

JPH
Category :
Musique (CLIFF Richard)
|
Write a comment
|
Print
Comments
serge.g , le 14-10-2013 à 13:13:33 :
bonjour
donc bon anniversaire à cliff et suis d'accord avec Carmen au sujet de coco merci à eux 2 serge
Carmen de Ghoy, le 14-10-2013 à 12:22:48 :
Happy Birthday Cliff
Bonjour à tous
Un jour très spécial pour nous tous. Bon anniversaire à toi Cliff et que tu continues encore longtemps à nous enchanter et nous faire vibrer ainsi que tous mes remerciements à toi Coco qui a su prendre le dessus malgré ta douleur intense.
Tous les visiteurs du blog, les Cliffettes nous t'aimons pour cela.
Bon lundi
Cliff1956, le 14-10-2013 à 07:29:14 :
Happy birthday to you Sir Cliff
Tous mes vœux en ce jour de fête pour notre chanteur préféré . Qu'il nous donne encore longtemps la joie de l'écouter et de le voir. Gros bisous a tous, a toi Coco pour ce blog toujours plein de nouveautés et a vous les Cliffettes amies. Bonne journée a tous Marie
lilithewitch, le 14-10-2013 à 07:03:30 :
Happy birthday Cliff
voici mon message personnel à Cliff: Hi Cliff! You're not really 73 , you're 64 with 9 years experience You're not really Cliff, the artist aged 73 , you're 18 with 55 years of experience as the British Rock'n Roller I'd like to wish you fun, sun, happiness, success, health and wealth for the next 365 days... til next year same place, same time All my love... Liliane
cliffette, le 14-10-2013 à 06:52:18 :
Happy Birhday Cliff !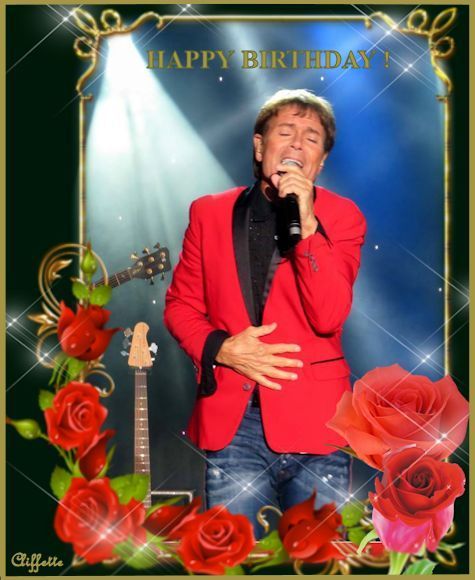 Mon diaporama pour célébrer les 73 ans de Cliff est visible ici (à ouvrir dans une nouvelle fenêtre) :
http://youtu.be/g73YkqJQrnQ
De plus la radio française Radio Totem, à ma demande, a dit quelques mots sur Cliff et son anniversaire aujourd'hui mais après avoir passé "Apache" des Shadows !
http://youtu.be/d3waSSDIp5g
Bonne journée à tous.