CLIFF is a BIG BOY NOW!
19/5/2013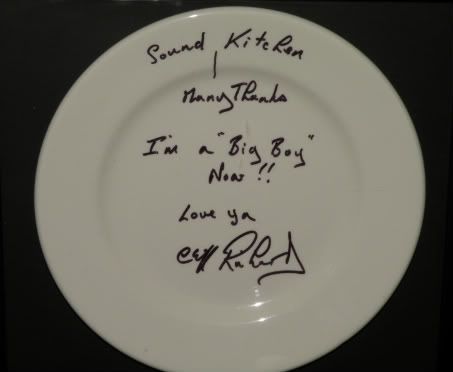 The studio in Memphis has a neat tradition where (due to its name) they have
recording artists sign dinner plates.
Category :
Musique (CLIFF Richard)
|
Write a comment
|
Print
Comments
Carmen de Ghoy, le 20-05-2013 à 11:42:34 :
Une assiette signée par Cliff
Bonjour à tous
C'est sûr que j'en prendrais grand soin si j'avais une telle assiette.
Bonne journée malgré la grisaille.
lilithewitch, le 20-05-2013 à 06:21:35 :
Soundkitchen
Il s'agit du studio où il a enregistré 'Bold as Brass' et le studio dans lequel il a travaillé s'appelle 'Big Boy' voilà l'explication pour les mots de Cliff 'I'm a Big Boy now'
lilithewitch, le 20-05-2013 à 04:57:19 :
joli cadeau
Je pense que les studios doivent être fiers d'avoir eu la chance de travailler avec un artiste comme Cliff ... je l'invite à passer signer une assiette chez moi!
cliffette, le 20-05-2013 à 01:44:57 :
Des fleurs pour oublier le mauvais temps !

Photo de Jodie Brooks.
Bon lundi.