Enregistrement terminé!
16/4/2013
Steve Mandile, Cliff and Friends!
STEVE MANDILE - "Just finished the last vocal with Sir Cliff Richard. What a
pleasure to record a veteran like Cliff. He bounces around the studio like a 20
year old. He still loves the recording process so much after all of these years.
Every take was a possible final vocal. The way it should be. Many lessons to be
learned from Sir Cliff."
Nous venons de terminer l'enregistrement...Ce fut un plaisir de travailler avec CLIFF...Il réagit dans le studio comme un jeune de 20 ans...Que de leçons nous avons apprises au contact de Sir Cliff"
Category :
Musique (CLIFF Richard)
|
Write a comment
|
Print
Comments
serge.g , le 16-04-2013 à 07:02:38 :
bonjour
comme d'habitude les commentaires de lili sont intéressant mais vraiment rapide l'enregistrement!! bonne journée
lilithewitch, le 16-04-2013 à 03:53:02 :
la photo
la photo qui montre à gauche Steve Mandile et Cliff le 4ème sur la droite a été prise le 12 novembre2005 lors de la prestation de Cliff au Joes Pub à New York !!!! Steve l'accompagnait à la guitare, Cliff l'avait invité parce qu'il était le producteur de qqs chansons de son album 'Something's Going On'. Il a écrit 3 chansons dont Something's Going On. Steve se rappelle que Cliff était magnifique et humble comme d'habitude. On ne dirait jamais qu'il est une célébrité. Il adore sortir et rester avec les potes et surtout de chanter sur scène. La chance d'avoir produit qqs unes de ces chansons était formidable mais pouvoir jouer sur scène avec lui fut un honneur. Je vais saisir chaque opportunité pour faire partie de sa carrière un jour encore... c'est un vrai plaisir de travailler avec lui.
Ses mots datent de fin 2005 et voilà 7 années plus tard Cliff est entré en contact avec Steve Mandile pour réfléchir, parler et élaborer les premiers pas pour le prochain album Rock, qu'ils ont enregistré la semaine passée.

... en espérant que ces petites histoires vous plaisent, elles sont faciles à rechercher pour moi grâce à ma bonne mémoire sur tout ce qui est CLIFF!

lilithewitch, le 16-04-2013 à 03:22:36 :
Reelin' and A Rocking!
L'album est terminé... the work is done... maintenant l'attente et les spéculations vont bon train... déjà le titre de l'album donne à réfléchir. Je me demande si nous aurons droit à un programme différent aux concerts Midsummer de la tournée en janvier/février à travers la Nouvelle Zélande, l'Australie et l'Asie. Mes réflections sont fondées car je sens le timing un peu comme lors de Something's going on, l'album fut enregistré fin 2003 pour sortir en octobre 2004, mais lors des 14 concerts sold out 'Live and Kicking' au Royal Albert Hall en avril 2004, nous avons eu droit à 7 chansons de cet album inédit, ainsi que pendant les concerts 'Summernight' en juillet 2004
On verra bien... aujourd'hui en deux mois... Powderham Castle, hein Coco?
Bonne journée

cliffette, le 16-04-2013 à 01:31:12 :
Vivement la sortie du CD !
J'aime bien la chanson "I don't care if the sun don't shine".
Je l'ai illustrée :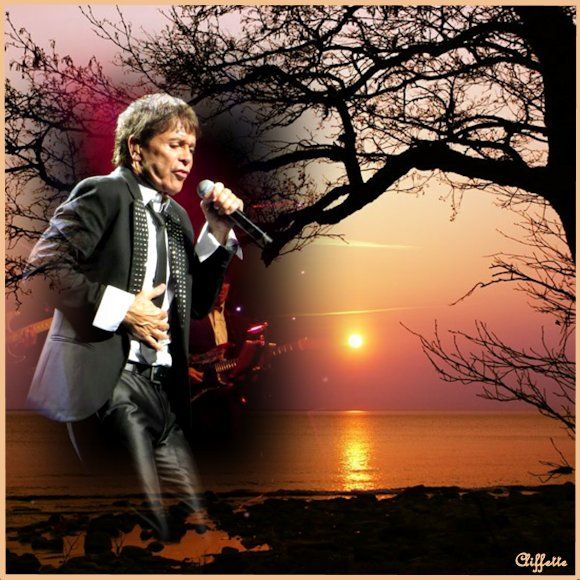 Je l'ai utilisée comme bande-son de mon nouveau diaporama(à ouvrir dans une nouvelle fenêtre) :
http://youtu.be/m5_rtgg10b0
Bonne journée à tous.