THE YOUNG ONES (BIO 11)
28/3/2009
1961
Je reprends la suite de la bio article 7. Nous sommes en 61 et Cliff tourne le film "THE YOUNG ONES" énorme succès dont le disque du même nom est number One et se vend à un million d'exemplaires. Cliff fait le tour des quatre coins du monde avec les Shadows qui deviendront plus tard de leurs côtés le meilleur groupe instrumental du circuit. Le Variety Club de Grande-Bretagne fait de Cliff "La Personnalité musicale de l'année".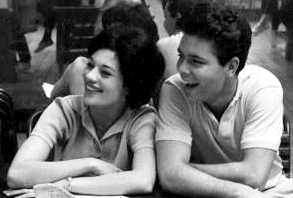 Superbe photo de Cliff en compagnie de CAROL GRAY sa partenaire dans le film lors d'une pause....Merci LILI!
Directed by
Sidney J. Furie
Produced by
Kenneth Harper, Andrew Mitchell
Written by
Peter Myers and Ronald Cass
Starring
Cliff Richard, Robert Morley, Carole Gray, Melvyn Hayes, Teddy Green, Richard O'Sullivan, Robertson Hare, Gerald Harper, Rita Webb, and The Shadows
Music by
Stanley Black, Ronald Cass
Cinematography
Douglas Slocombe
Editing by
Jack Slade
Release

date(s)

19 December

1961 (London)
Running time
108
Country

England

J'ai testé deux nouveaux Design mais j'en reviens à celui d'origine...
Tout sur Jean-Pierre Heinen (blog perso)
|
Write a comment
|
Print
Comments
Carmen de Ghoy, le 29-03-2009 à 12:02:55 :
The Youg Ones
En allant voir The young Ones au ciné, c' était la première fois que je voyais Cliff
autrement que dans un magazine ou sur carte postale.
Un moment rare qui rappelle de très bons souvenirs.
Bon dimanche, bonjour aux Cliffettes
Plumedoie
, le 29-03-2009 à 09:22:05 :
Hello Coco
Bon Dimanche
Il pleut!
bisous
lilithewitch, le 29-03-2009 à 05:36:48 :
photo montrant CLIFF en veste rose 'pink'
La nouvelle photo qui apparaît en haut de la page... et bien je l'ai prise lors du premier concert de la Time Machine Tour en Novembre dernier à Wembley, rangée 3... ce qui est promettant pour les soirées avec 'CLIFF et les Shadows' en concert novembre prochain à Bruxelles et Cologne... à Paris, Rotterdam et Londres!
Lots of love

lilithewitch, le 29-03-2009 à 05:31:04 :
...design...
Back to the roots... je préfère finalement le design ancien... l'important c'est ce que tu nous sers tous les jours!
Bon dimanche à tous et un coucou aux Cliffettes
cliffette, le 29-03-2009 à 03:56:05 :
C'est mieux ainsi.
Plus en accord avec le sujet du blog et avec mon montage de bienvenue fait à partir d'une photo prise par Lili.