Extended reaction from Sir Cliff Richard to carrying the Olympic flame...Cliff explique sa fierté d'avoir porté la flamme olympique.
"Fairness, strength, power, and a way of showing life" and said the Olympics, following on from Jubilee had brought the nation together.
"The national wants be together and play a part on this whole adventure."
– Sir Cliff Richard
Sir Cliff Richard s'est dit privilégié et honoré d'avoir pu porter la torche olympique à travers les rues de BIRMINGHAM. " Faire partie des relayeurs est formidable, tout le pays est concerné, le JO c'est un mélange d'honnêteté, de force, de pouvoir, un exemple d'une manière de vivre...Une aventure partagée par tout un pays"
Cliff a beau être le chanteur le plus populaire de GB, le recordman de ventes de disques et de numéros 1 dans les Charts, il est SIR et ami de la REINE, il reste entier, total dans ses sentiments, aime tellement être proche des gens....CONGRATULATIONS SCR!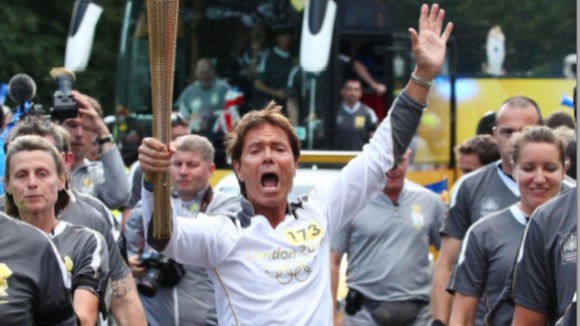 Sir Cliff Richard was the Torch bearer through Edgbaston last night. Photo: PA
Before his moment with the Olympic flame, Sir Cliff Richard spoke from his Birmingham hotel and explained what it meant to him to be involved.
He said he considered himself "very privileged" to be a part of the relay describing himself as a lucky "cog in a big machine."