CLIFF IN THE SKY WITH DIAMONDS!
3/6/2012
Sir Cliff pays tribute to the Queen ahead of Jubilee concert...
Avant le concert du jubilé de la Reine, CLIFF loue la personnalité de celle-ci dans l'intervieuw ci-dessous (cliquez sur le lien). Cliff a plusieurs fois rencontré ELISABETH II et, pour le concert de demain, il a été le PREMIER INVITE contacté pour y participer. Demain, CLIFF RICHARD sera IN THE SKY WITH DIAMONDS!
http://www.telegraph.co.uk/news/uknews/the_queens_diamond_jubilee/9306091/Sir-Cliff-Richard-Diamond-Jubilee-tribute-The-Queen-has-been-dignified-throughout-her-reign.html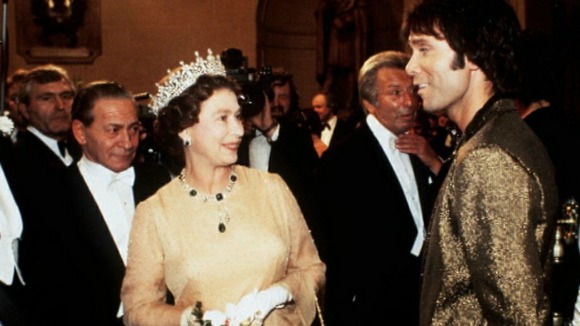 One of the stars who will be performing to thousands of people at the Jubilee concert outside Buckingham Palace on Monday will be Sir Cliff Richard.
His career has spanned the Queen's reign - from the fifties to the present day.
Category :
Musique (CLIFF Richard)
|
Write a comment
|
Print
Comments
marcel77, le 05-06-2012 à 17:00:38 :
Déçu
Coco, tu nous avait annoncé de longue date une grande prestation de Cliff. Il ne devait pas avoir tant de chanteurs... je trouve que notre Cliff n'a pas été à la hauteur des autres. (mais vu son âge, ..)
lilithewitch, le 03-06-2012 à 21:29:24 :
River Thames Pageant !
C'était formidable la parade des bâteaux sur la Tamise. La Reine, le Prince Philippe, le Prince de Galles, la Duchesse de Cornouailles, le Duc et la Duchess de Cambridge étaient resplendissants... quel énergie de rester debout pendant tout le cortège, malgré la pluie battante! Ne me dites pas qu'ils n'ont rien d'autre à faire... montrez moi un Monsieur âgé de 91 ans (le 10 juin prochain) qui comme le Prince Philippe reste debout aussi longtemps et la Reine à 86 ans... et oui je les admirent. Cliff a suivi le cortège sur le balcon d'amis qui l'ont invité à les rejoindre pour les festivités et après il a rejoint la troupe pour les répétitions du concert de demain
JCD, le 03-06-2012 à 16:16:49 :
Salut JPH!
Je passe encore et je regarde le jubilé sur la Tamise, fait moche!
serge.g , le 03-06-2012 à 13:50:59 :
bon dimanche
pour regarder le jubilé c'est le temps idéal bon dimanche
cliffette, le 03-06-2012 à 13:14:09 :
Le temps n'a pas l'air très favorable !
Un temps pluvieux comme on l'imagine toujours au Royaume Uni...
Dommage.