CONGRATULATIONS ANNIF 44!
6/4/2012
Do you remember … on this day in 1968 Cliff represented the UK with 'Congratulations' in the Eurovision Song Contest at the Royal Albert Hall? It was the first contest to be transmitted in colour. Cliff came in second place behind the entry from Spain. He was only beaten by 1 point although it's now come to light that the votes were tampered with and that Cliff actually did win!
Vous vous souvenez? Ce même jour en 1968, CLIFF représentait la Grande-Bretagne au concours de l'EUROVISION retransmis pour la première fois en couleurs au ROYAL ALBERT HALL? (à écouter ici)
"CONGRATULATIONS" fut battu d'un point par l'ESPAGNE et classé deuxième même s'il fut prouvé que les votes avaient été falsifiés par FRANCO. C'est donc bien CLIFF qui remporta réellement la compétition!
Et moi, je préfère LA photo d'époque en noir et blanc.
Category :
Musique (CLIFF Richard)
|
Write a comment
|
Print
cliff1956, le 12-04-2012 à 03:08:54 :
1968
Oui, je me rappelle très bien cette soirée d'Eurovision 1968. Nous regardions encore ce genre d'émission. Nous croyions encore à l'honnêteté des concours.
Quand j'ai vu Cliff pour la première fois ce soir là, j'avais 12 ans, j'ai flashé directement sur sa voix et son physique et c'est là qu'a démarré la grande histoire d'amour qui m'a permis de faire la connaissance de cette grande famille de fans et surtout Lili, Carmen, Cliffette, Nat, Coco et tous les fans internet et ceux que j'ai eu la chance de connaître lors des concerts.
Merci à l'Eurovision de m'avoir donné cette chance.
Bonne journée à tous.
Gros bisous
Marie
serge.g , le 07-04-2012 à 08:33:14 :
bonjour
je n'avais que 7 ans et je ne connaissais pas encore Cliff et je ne regardai pas la tv le soir il faudra encore 5 ans serge
cliffette, le 07-04-2012 à 01:28:23 :
Pourquoi pas en couleur ?
Cliff en bleu avec sa chemise à jabot, toute une époque...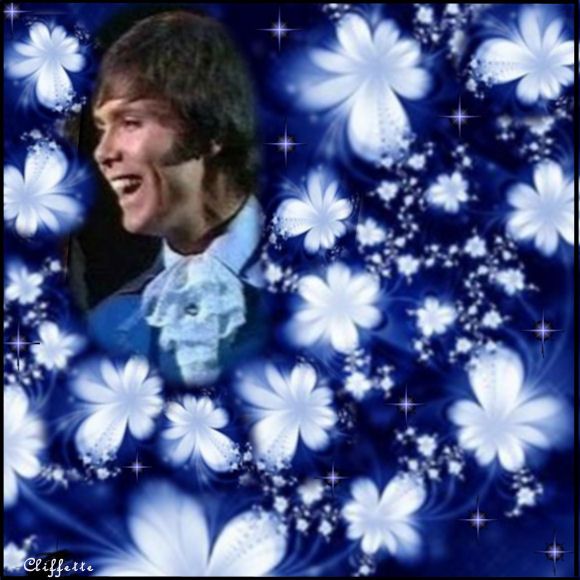 Bonne journée.