Ten Things about CLIFF (suite)
Grand Cross's star of the Order of the British Empire...CLIFF et les HONNEURS ROYAUX!
6. They wouldn't touch him with a bargepole now, but the New Musical Express (now just plain old NME) named Cliff 'Best New Singer' in 1959. Cliff won the 'Best Male Singer' gong from the Melody Maker (RIP) in the same year. He's won countless prizes since then, including Brits in '77, '82 and '89, a couple of Ivor Novellos, and of course an OBE from the Queen in 1980 followed by a Knighthood in 1995 - becoming the first rocker to get one!

7. Like his 1962 hit, Cliff is a lifelong 'Bachelor Boy'. He says that he considered marrying dancer Jackie Irving and tennis star-turned-broadcaster Sue Barker. His connection to the tennis world was underlined with his Service to Tennis Award from the Lawn Tennis Association in 2003. And of course there was that impromptu performance at a rainy Wimbledon in a rainy 1996.
A partir de 1959 où il fut élu "Meilleur jeune chanteur de l'année", CLIFF va multiplier les AWARDS, les PRIX, les récompenses. Citons entre autres...Meilleur chanteur des années 77/82/89 sans oublier son OBE en 80 et sa nomination royale de Chevalier en 95.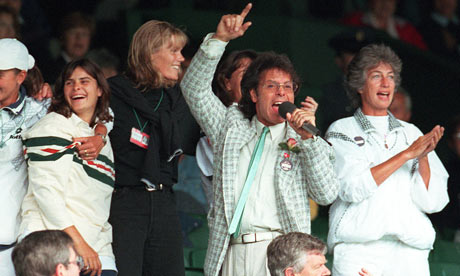 Comme il le chante dans BACHELOR BOY, Cliff restera célibataire même s'il avait envisagé le mariage avec la danseuse Jackie Irving ou la joueuse de tennis Sue Barker. Cliff a toujours eu d'étroites relations avec le monde du tennis comme en témoigne son implication dans les oeuvres caritatives de ce sport sans oublier évidemment son tour de chants improvisé et a cappella à WIMBLEDON sous la pluie en 96.