CLIFF et son HISTOIRE du 22 MARS...En toute simplicité!
22 March 1960 Cliff stars in the BBC's Royal Albert Hall concert with Ted Heath, Edmundo Ross and Chris Barber.

22 March 1962 Cliff and The Shadows performed at the Eton College Mission Youth Club, Hackney Wick, attended by Princess Margaret and the Earl of Snowdon. Later Cliff joins the Royal couple for tea.

22 March 1963 Cliff's UK tour played Leeds Odeon. After the show he stayed at the Queens Hotel.

22 March 1966 Cliff appears on Pop Inn with Harry Secombe, Roy Orbison, Cilla Black and Chrispian St Peters.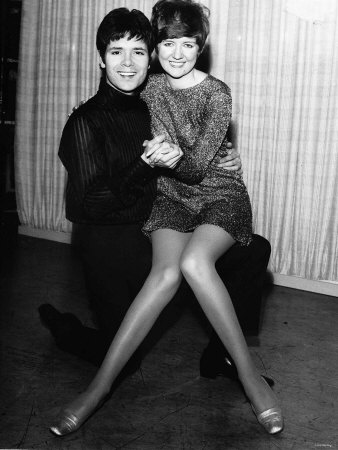 Cliff and Cilla Black...en 66
22 March 1980 Cliff's Carrie (EMI 8035) climbed from #59 to #51 in the Billboard Hot 100 (peaked at #34 and stayed 11 weeks in the US chart).

22 March 1981 Cliff's North American tour had a day off. By now, the tour was in Ontario, Canada's most heavily populated province. Cliff had played three dates in the province already, en route to an Ontario total of nine. The Canadian dates on the tour were generally sold-out and extra shows were added in some cities. As Cliff moved across the country, A little in love was high on playlists everywhere.

22 March 1983 Cliff recorded at Abbey Road Studio 2 Please don't fall in love (A-side), Too close too heaven (B-side) and How to handle a woman (unissued). The recordings were done on 21-23 March.

22 March 1985 Cliff holidays in Portugal.

22 March 1986 Cliff's single with The Young Ones and Hank B. Marvin Living doll (WEA YZ 65) entered the UK chart. The song peaked at #1 and stayed 11 weeks in the chart. This was Cliff's 11th UK #1 hit. Living doll was also #1 in July 1959, in fact it was Cliff's 1st #1 hit single.

22 March 1989 Cliff records at the RG Jones Studio.
22 March 1989 Cliff with his stronger Tour in Sydney

22 March 1991 Cliff with An evening with Cliff Richard gospel tour played the Newport Centre, Newport.
22 March 1992 tv British Film & Television Awards (ITV).