Dans le magazine Platine d'avril 2011, on trouve une interview de Long Chris (Christian Blondieaul) qui fait
partie des pionniers du rock'n'roll « made in France »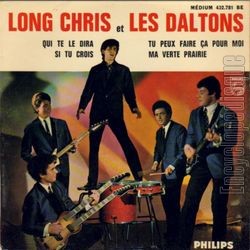 C'était l'ami de Jonnhy Halllyday qui a épousé sa fille Adeline à deux reprises..
Il avait déjà enregistré quelques adaptations de Cliff Richard en 1962.
Il est remonté sur scène avec Vic Laurens et prépare un album.
Il vient de faire de nouvelles adaptations de titres qui avaient déjà été adaptés par d'autres durant les sixties
dont "Move It" et "Travelling light" de Cliff Richard. Ecoutez ce morceau sur ce blog!
CLIFF RICHARD - TRAVELLIN' LIGHT.
On trouve ce titre sur le single de 1959, les EP "Cliff's Silver Discs" (1960) et "Cliff's Hit
Album"(1963), ainsi que sur de nombreux albums.
Après l'extraordinaire succès de "Living Doll", Cliff Richard And The Drifters enregistrèrent
une autre ballade en prenant, pour la première fois le nom de Cliff Richard And The
Shadows, suivant ainsi la suggestion de Jet Harris.
Ce titre resta classé dans le Hit parade anglais pendant cinq semaines.
La guitare de Hank Marvin met merveilleusement en valeur la voix de Cliff.
C'est une nouvelle version que Cliff enregistra .pour l'album "The 31 st Of February Street"
(1974) et "Japan tour 74". Cliff et les Shadows ont, bien sûr, reprirent
ce titre pour l'album "Reunited"de 2009
(Texte Francine)
CLIFF RICHARD - MOVE IT
Ce premier single de Cliff Richard And The Driffters(1958) est le premier grand succès de Cliff et
certainement le plus connu,le premier vrai rock'n'roll typiquement anglais et un des
premiers authentiques rocks produits en dehors des USA.
On trouve aussi ce titre sur le EP "Cliff"(1959) et sur de nombreux albums "Don't Stop
Me Now" (1967), Cliff In Japan"( 1967), Cliff Live In Korea" (1969), Live In Japan 1972,
Thank You Very Much" (1978), "Rock'N'Roll Silver (1983), "From A Distance...The
Event"( 1989), "World Tour Live" (2003), "Two 's Company"( 2006) and "Reunited" (
2009).
On le retrouve en face B des singles "Human Work Of Art" (1992) et "The Miracle" ( 1998)
L'histoire de cette chanson est extraordinaire.
Enrgistrée comme face B du single "Schoolboy Crush", elle eut beaucoup de succès
grâce au producteur de l'émission de télévision "Oh Boy !", Jack Good et ce morceau
enlevé propulsa Cliff au sommet des Hit parades en N°2.
(texte Francine)